50 Note Sankyo Orpheus Movement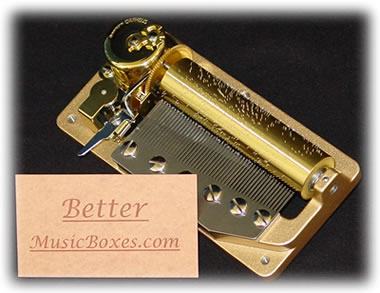 zoom


( 15cm long, 7.5cm wide, 3.5cm high )



Tune Description
Now a days, it's getting more difficult to find good Christmas music in recorded forms. However, there has been a change so far as music boxes are concerned. The H17, is a good example of an old fashion German style music box that could have been easily found in Switzerland, Austria, or Germany about 50 years ago. The tones that this musical movement provides are simply delicious. "Silent Night" sings along like groups of children singing around the fireplace. "O Christmas Tree" (O Tannenbaum) almost sounds like a choir with bells and organ. "O Du Frohliche" is a German Christmas carol.
The spirit of this music makes me think of Christmas eve just before the presents are opened by the children. If one uses his imagination, he can almost see the candles on the Christmas tree burning. Of course, this would be before they had electricity. You will not be disappointed with this beautiful movement.
50 Note Movement
This kind of Sankyo movement plays two or three tunes (or parts) and is made in Japan. Playing time is usually about 6 minutes. There are fifty notes (or "teeth") on the comb. There is a lot of bass sound in the comb, and the arrangements are usually very spectacular in nature. Our in-house comb machine and Rick's expertise result in
Bell-Like Tuning
unrivalled in new movements for decades.
"I simply want to take this opportunity to express how fortunate I think I am that I selected them…"
- johnvankesteren