Pre-Owned Allen MDS-26 with 5 Channels with Ensemble Expander and Smart Recorder
This lovingly used Allen MDS 26 sounds like a magnificent pipe organ and is very convincing for a wide array of classical and church literature. LISTEN to "Visiting Europe by Rick Epperly" recorded from THIS Allen MDS-26 to get an idea what magnificent music this is capable of. I think you'll be amazed taht a 2-manual organ can produce this kind of music! I believe the only sound in the recording that is not included in this offering is the Zimbelstern (from an older Allen expander).
This link points you to Amazon where you can listen, or to sources where you can buy it: http://bettermusicboxes.com/Products/CDs-MP3s/
Includes
Much newer Ensemble Division expander
In the right drawer on organ, it lets you add any 2 voices per division. Includes 255 voices. For Classical work, these stand out: 32' Pousane, 32'Contraviolone, Carillon, Chimes, Handbells. For more detail, check out https://www.allenorgan.com/products/midi/allen-ensemble.html .
Smart Recorder - Will preserve your performance for re-use even years later. See Allen's Owner's Manual at https://www.allenorgan.com/support/ownersmanuals/0330062.pdf
4 large HC 15 speakers and a sub-woofer the same size: good for small/medium church
Headphone Jack (using it disables the speakers so you can practice in private)
Features
Five audio channels (allow great and swell to be placed in different parts of the church)
Divided Expression (Swell and Great) + Crescendo Pedals
Full set of Generals/Divisionals/Toe Studs - very elaborate and complete capture action. Divisionals can be converted to Generals.
Console Controller including MIDI Recorder, Key Transposer, Four Memory Banks for Piston Capture settings, Reverb on/off, etc.
Full MIDI capability
Allen-manufactured Keyboards
Allen's Stop List: https://www.allenorgan.com/support/ownersmanuals/0330069.pdf
Notable stops are Contre Violone 32' on pedal, Chimes and Carillon on Great, 3 Solo voices on Swell (Harp, Hand Bells, and Celeste)
Walnut finish
Excellent Condition per the local Authorized Allen Service Tech: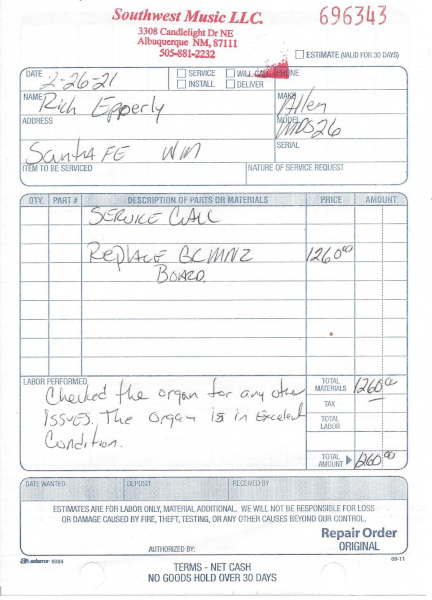 Finally
Allen does a great job at maintaining the capability to repair these organs decades after their manufacture, so the probability that you can use this for many, many years is very, very good, even if something were to go wrong.
Here's an article about How to Choose a Used Pipe Organ.
Contact Us if you are interested in purchasing this beautiful Pre-Owned Allen MDS-26.