50 Note Sankyo Orpheus Movement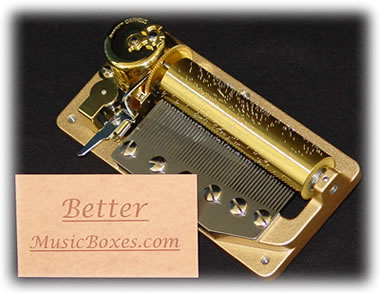 zoom


( 15cm long, 7.5cm wide, 3.5cm high )



Tune Description
This particular music box movement is definitely in the German style. The tone is bright and colorful, almost shimmering. When I first heard it I wanted it, right away! The harmonies are very rich indeed. It is a very nice example of a German-style music box.
There is a lot of decoration in the accompaniment of "Home Sweet Home", and the melody line is nicely intertwined.
"Green Sleeves" is not as decorated, but is still nice. It makes for a good contrast with the tune just before it.
50 Note Movement
This kind of Sankyo movement plays two or three tunes (or parts) and is made in Japan. Playing time is usually about 6 minutes. There are fifty notes (or "teeth") on the comb. There is a lot of bass sound in the comb, and the arrangements are usually very spectacular in nature. Our in-house comb machine and Rick's expertise result in
Bell-Like Tuning
unrivalled in new movements for decades.
"I simply want to take this opportunity to express how fortunate I think I am that I selected them…"
- johnvankesteren