50 Note Sankyo Orpheus Movement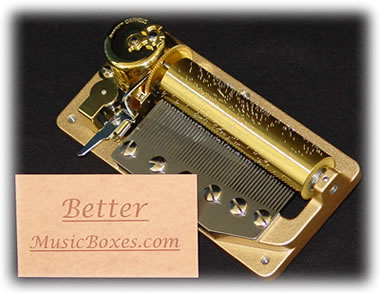 zoom


( 15cm long, 7.5cm wide, 3.5cm high )



Tune Description
The thing that I like most about this movement is that the music rings like bells. The music sparkles like diamonds. It is just as good as any Reuge movement. For those who like church music, this movement is sure to please. "What a Friend We Have in Jesus" this song has a very sincere quality of a child who really believes the song. The same is true of "Amazing Grace" it is very stately and sounds like a sincere prayer from a person who means what he or she, says. In this case, keep the faith, as well as the movement. You will love it.
50 Note Movement
This kind of Sankyo movement plays two or three tunes (or parts) and is made in Japan. Playing time is usually about 6 minutes. There are fifty notes (or "teeth") on the comb. There is a lot of bass sound in the comb, and the arrangements are usually very spectacular in nature. Our in-house comb machine and Rick's expertise result in
Bell-Like Tuning
unrivalled in new movements for decades.
"I simply want to take this opportunity to express how fortunate I think I am that I selected them…"
- johnvankesteren