50 Note Sankyo Orpheus Movement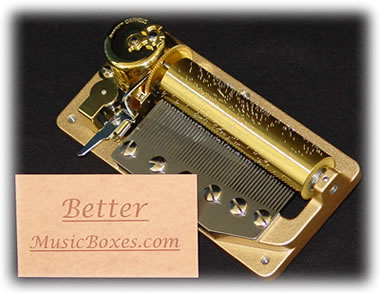 zoom


( 15cm long, 7.5cm wide, 3.5cm high )



Tune Description
The music this movement produces is very delicate, indeed.
"Fur Elise" is a good example, of the difference between an 18-note and a 50-note music box. Since "Fur Elise" is in 2 parts, there will be a contrast between parts one and two.
Part one sounds a little like an 18-note movement in a sense, because the part writing in the arrangement has a very thin texture.
When you get to the second part, however, things change rapidly. Instead of a thin melody line, you hear chords, runs, and a very short section of what we call (in the music world) triplets. Even the wonderful 72-note version doesn't have triplets!
I really like the fact that Part 2 of the movement is from the second theme of "Fur Elise". This musical arrangement provides a great climax just before you get to the end of the piece.
Once again, "Beethoven never sounded so good."
50 Note Movement
This kind of Sankyo movement plays two or three tunes (or parts) and is made in Japan. Playing time is usually about 6 minutes. There are fifty notes (or "teeth") on the comb. There is a lot of bass sound in the comb, and the arrangements are usually very spectacular in nature. Our in-house comb machine and Rick's expertise result in
Bell-Like Tuning
unrivalled in new movements for decades.
"I simply want to take this opportunity to express how fortunate I think I am that I selected them…"
- johnvankesteren