50 Note Sankyo Orpheus Movement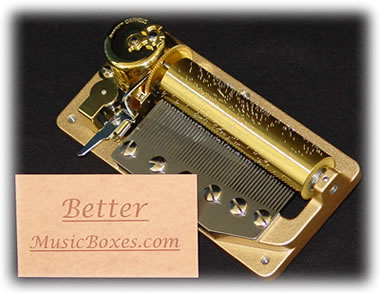 zoom


( 15cm long, 7.5cm wide, 3.5cm high )



Tune Description
This musical arrangement, also known as "Aria for the G-String", is most unusual indeed. Generally, we do not think of hearing JS Bach on a music box, however you will find this musical arrangement most interesting and a little surprising.
The piece is in 2 parts and quite accurate so far as the arrangement is concerned. In the second part, they had to leave two measures out, but the way that they resolved and joined the last two or three ending measures is most astounding and as I have said before, quite surprising.
When I hear this musical movement, I think of church-bells ringing, or possibly a pipe organ playing this beautiful piece. The movement sounds very German in style and is most worth while. Also, the music itself is much slower than one might expect and yet, one never gets tired of hearing it.
Why not try this movement out for yourself and see if you agree with me.
50 Note Movement
This kind of Sankyo movement plays two or three tunes (or parts) and is made in Japan. Playing time is usually about 6 minutes. There are fifty notes (or "teeth") on the comb. There is a lot of bass sound in the comb, and the arrangements are usually very spectacular in nature. Our in-house comb machine and Rick's expertise result in
Bell-Like Tuning
unrivalled in new movements for decades.
"I simply want to take this opportunity to express how fortunate I think I am that I selected them…"
- johnvankesteren