50 Note Sankyo Orpheus Movement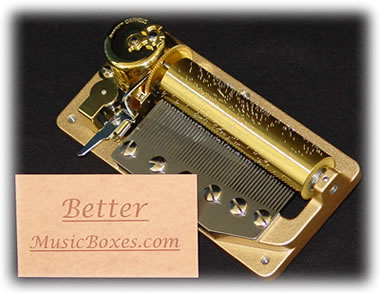 zoom


( 15cm long, 7.5cm wide, 3.5cm high )



Tune Description
Both of the symphonies (no. 5, and no. 9) are very nicely represented in this music box movement. The music sounds like a German-style music box one might have found in Germany in the early 1900's.
The "5th Symphony" by Beethoven expresses the subject of fate. This music box arrangement is from the fourth of the five movements in the "5th Symphony".
The last movement of the "9th Symphony" is represented here. It expresses the German countryside and is also a beautiful and stately hymn. Beethoven's music never sounded so good!
50 Note Movement
This kind of Sankyo movement plays two or three tunes (or parts) and is made in Japan. Playing time is usually about 6 minutes. There are fifty notes (or "teeth") on the comb. There is a lot of bass sound in the comb, and the arrangements are usually very spectacular in nature. Our in-house comb machine and Rick's expertise result in
Bell-Like Tuning
unrivalled in new movements for decades.
"I simply want to take this opportunity to express how fortunate I think I am that I selected them…"
- johnvankesteren