50 Note Sankyo Orpheus Movement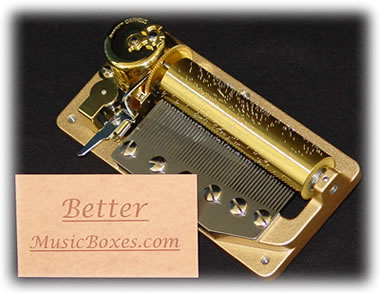 zoom


( 15cm long, 7.5cm wide, 3.5cm high )



Tune Description
In the Swiss music box style, this musical movement is harp-like. It will help those students of yours want to practice the piano: that is, if you are a piano teacher!
This is one of the better 50-note movements Sankyo makes. All three songs are very pretty.
Chopin's music appears to work very well for music boxes!
NOTE
"Fantaisie-Impromptu" is also known as
"Fantaisie-Impromptu Op. 66"
"Nocturne" is also known as
"Nocturne Op. 9 No. 2"
"Tristesse" is also known as
Etude Op. 10. No.3 "Chanson De L'adieu"
50 Note Movement
This kind of Sankyo movement plays two or three tunes (or parts) and is made in Japan. Playing time is usually about 6 minutes. There are fifty notes (or "teeth") on the comb. There is a lot of bass sound in the comb, and the arrangements are usually very spectacular in nature. Our in-house comb machine and Rick's expertise result in
Bell-Like Tuning
unrivalled in new movements for decades.
"I simply want to take this opportunity to express how fortunate I think I am that I selected them…"
- johnvankesteren