50 Note Sankyo Orpheus Movement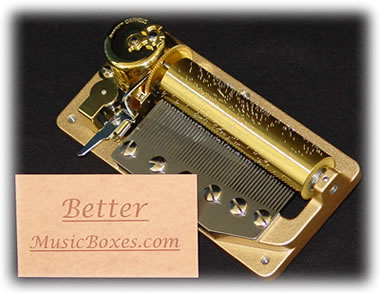 zoom


( 15cm long, 7.5cm wide, 3.5cm high )



Tune Description
This musical movement is more like a Swiss movement. There is a real brightness to the tone.
The two waltzes are very nicely represented here. I especially like the "Sleeping Beauty Waltz: it is most delightful!
As for the "Nutcracker March", it is unique because of the introduction written for the arrangement. In the original score, the march has no introduction; but this arrangement provides a nice surprise.
50 Note Movement
This kind of Sankyo movement plays two or three tunes (or parts) and is made in Japan. Playing time is usually about 6 minutes. There are fifty notes (or "teeth") on the comb. There is a lot of bass sound in the comb, and the arrangements are usually very spectacular in nature. Our in-house comb machine and Rick's expertise result in
Bell-Like Tuning
unrivalled in new movements for decades.
"I simply want to take this opportunity to express how fortunate I think I am that I selected them…"
- johnvankesteren