50 Note Sankyo Orpheus Movement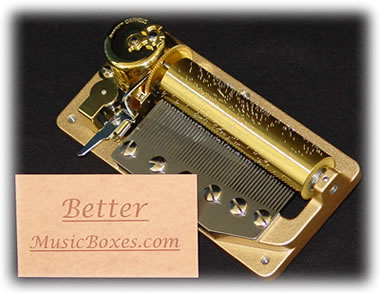 zoom


( 15cm long, 7.5cm wide, 3.5cm high )



Tune Description
This is a Swiss-style musical movement. Bach, Handel and Pachelbel are nicely represented here. If you listen hard, you can almost see fireworks going off in July. Perhaps you are celebrating the New Year.
Well, any way, what ever you are celebrating, this is a good musical arrangement of Handel's music. It is very well decorated with little trills and grace notes.
The same goes for Bach's "Minuet". The arrangement shows off Bach's decorations very well.
By the way, did you know that in the early sixties, there was a rock group of musicians that used this Bach Minuet for one of their pieces? They called it "Lover's Concerto".
Now, don't forget about Pachelbel's "Canon". It too, makes for a nice musical arrangement; however, you should know that only the Theme is played here, without Variations. Only the melody is represented here.
50 Note Movement
This kind of Sankyo movement plays two or three tunes (or parts) and is made in Japan. Playing time is usually about 6 minutes. There are fifty notes (or "teeth") on the comb. There is a lot of bass sound in the comb, and the arrangements are usually very spectacular in nature. Our in-house comb machine and Rick's expertise result in
Bell-Like Tuning
unrivalled in new movements for decades.
"I simply want to take this opportunity to express how fortunate I think I am that I selected them…"
- johnvankesteren