1. If you buy one of our
large
music boxes together with one of our movements, we will install the movement free of charge.
2. If you buy just the movement, it ships complete with winding key, mounting screws, operating lever, an attractive tune label, and an
accurate drilling template
. For box-building details, refer to our
Box Design & Installation Considerations
.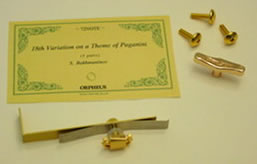 We also stock 15mm (just over 9/16") long key extenders (necessary for box bottoms thicker than 3/8 - which we do not recommend). These are only available with the purchase of a movement. Contact us for details.