50 Note Sankyo Orpheus Movement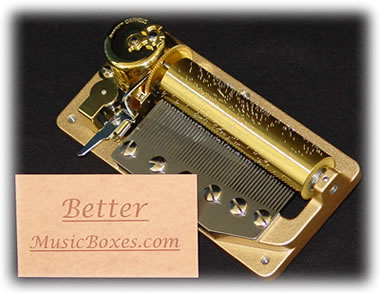 zoom


( 15cm long, 7.5cm wide, 3.5cm high )



Tune Description
This musical movement has a very bright tone, indeed. It almost sounds like orchestra bells. In some ways, it reminds me of the type of music box that one might find in Austria. You might say it has a style all of it's own.
Schubert would have been very happy indeed with this musical arrangement of "The Trout". The song is a theme with variations. In this arrangement only the theme is played (no variations here), but it is still quite nice indeed. The music is like a stream you might see in the country on a summer day.
"Swan Lake" is also very beautiful. The arrangement is in the same key as the original score, which is something you seldom find in music box arrangements. "Swan Lake" has a very intriguing melody line indeed. This music box arrangement really brings it out very well.
50 Note Movement
This kind of Sankyo movement plays two or three tunes (or parts) and is made in Japan. Playing time is usually about 6 minutes. There are fifty notes (or "teeth") on the comb. There is a lot of bass sound in the comb, and the arrangements are usually very spectacular in nature. Our in-house comb machine and Rick's expertise result in
Bell-Like Tuning
unrivalled in new movements for decades.
"I simply want to take this opportunity to express how fortunate I think I am that I selected them…"
- johnvankesteren