50 Note Sankyo Orpheus Movement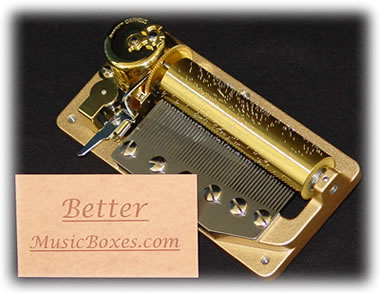 zoom


( 15cm long, 7.5cm wide, 3.5cm high )



Tune Description
Yoimachigusa is a name of flower that is said to blossom after dark. This is a love song that is sung in the evening about a woman who dreams in the night for her loved one to come back.
Last Rose of Summer is about a girl wanting her true love to come before the winter time. She is the last of the roses in full bloom, perhaps her beauty and her fragrance will cause her true love to come to a full bloom with her.
Please note the following recording is a simulation of the actual sound of the movement.
50 Note Movement
This kind of Sankyo movement plays two or three tunes (or parts) and is made in Japan. Playing time is usually about 6 minutes. There are fifty notes (or "teeth") on the comb. There is a lot of bass sound in the comb, and the arrangements are usually very spectacular in nature. Our in-house comb machine and Rick's expertise result in
Bell-Like Tuning
unrivalled in new movements for decades.
"I simply want to take this opportunity to express how fortunate I think I am that I selected them…"
- johnvankesteren