72 Note Sankyo Orpheus Movement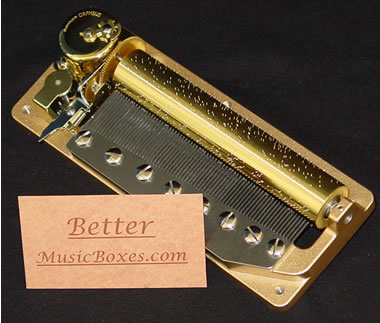 zoom
( 19cm long, 7.5cm wide, 3.5cm high )
Tune Description
Here is a bright German style movement, one of Sankyo's best.
While it's true that Vivaldi never wrote for a music box, his music works for it very well indeed. "The Four Seasons" is one of Vivaldi's most popular works, and this musical movement bears that fact out. Each of the three tunes describes a different season.
In "Spring" the birds are singing in the trees and rain showers come from time to time.
In "Autumn" the leaves are changing color before winter. You can hear this in the music, if you listen hard.
"Winter": now it is very cold outside. The snow is falling on the houses. You should put on your warmer clothing because of this cold weather.
72 Note Movement
This kind of Sankyo movement plays two or three tunes (or parts) and is made in Japan. Playing time is usually about 6 minutes. There are 72 notes (or "teeth") on the comb. There is a lot of bass sound in the comb, and the arrangements are usually very spectacular in nature. Our in-house comb machine and Rick's expertise result in
Bell-Like Tuning
unrivalled in new movements for decades.
"…I can recommend them wholeheartedly…"
- johnvankesteren