72 Note Sankyo Orpheus Movement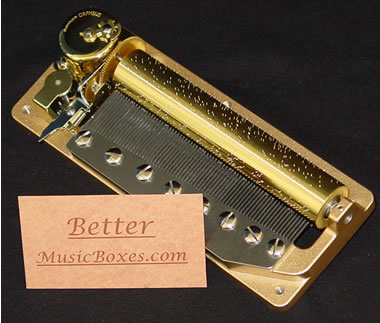 zoom
( 19cm long, 7.5cm wide, 3.5cm high )
Tune Description
This musical movement is more like a powder box: delicate and Mandolin-like.
The music is soft and inviting. All three tunes are very graceful.
The Chopin waltz is in the same key as the original score, which is not often the case when it comes to music box arrangements. The music works very well, and much of the waltz has been expressed.
The arrangement of the Liszt number is nice, but rather slow. The unfortunate fact is that you don't get as much of the melody in just one part as you would if arranged in 3 parts. The melody has a wide range of possibilities. What melody is here however, is very nice indeed.
Brahms's "Waltz" is also very nicely done. One almost pictures his or her Sweetheart dancing.
72 Note Movement
This kind of Sankyo movement plays two or three tunes (or parts) and is made in Japan. Playing time is usually about 6 minutes. There are 72 notes (or "teeth") on the comb. There is a lot of bass sound in the comb, and the arrangements are usually very spectacular in nature. Our in-house comb machine and Rick's expertise result in
Bell-Like Tuning
unrivalled in new movements for decades.
"…I can recommend them wholeheartedly…"
- johnvankesteren