72 Note Sankyo Orpheus Movement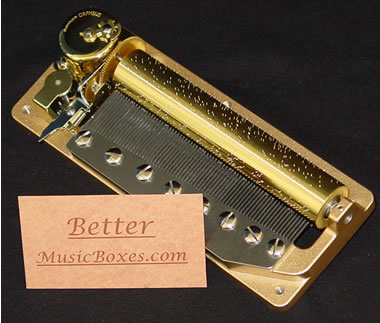 zoom
( 19cm long, 7.5cm wide, 3.5cm high )
Tune Description
Hello music box lovers. Boy, have I got something good to talk with you about today! The arrangement of Rachmaninoff's Second Piano Concerto in C minor. This is one of their best arrangements yet. You will get more for your money.The movement covers a little more ground of showing a little more of each of the three songs, or movements if you will, of the Concerto. This musical movement plays this Concerto in 3 parts. What makes this movement so nice is that you can listen to the whole Concerto before the movement comes to a stop. I like this movement even better than the earlier Swiss version. I also think that Sankyo has gone to great lengths to color or decorate the music for trills, grace notes, mordents and other musical effects. Why not get a copy for yourself? You cannot beat the cost, nor the musical arrangement. You will not be disappointed I promise you.
72 Note Movement
This kind of Sankyo movement plays two or three tunes (or parts) and is made in Japan. Playing time is usually about 6 minutes. There are 72 notes (or "teeth") on the comb. There is a lot of bass sound in the comb, and the arrangements are usually very spectacular in nature. Our in-house comb machine and Rick's expertise result in
Bell-Like Tuning
unrivalled in new movements for decades.
"…I can recommend them wholeheartedly…"
- johnvankesteren