72 Note Sankyo Orpheus Movement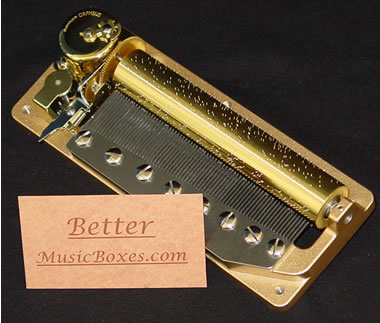 zoom
( 19cm long, 7.5cm wide, 3.5cm high )
Tune Description
Here is a tune that really comes from the past. The pianist Liszt liked this song so much that he actually arranged La Campanella from a violin piece that had been written from another composer. Paganini originally wrote this lovely melody for a violin. Liszt arranged it for the piano.
The piece of music, was also arranged for antique music boxes in the 19th century. Now Sankyo has come up with two arrangements of this piece. I have already
described for you the 100 note movement
which plays this same tune. Let us consider the 72 note arrangement that Sankyo has just come up with. This arrangement is, to quote a friend of mine, "Stunning!". The harmonies are truly beautiful. I would describe the music as mystical. What does the title La Campanella mean? It means "The Bells". Everything about this piece is bell like. There are a number of chromatic passages throughout the piece. They cause shivers to go up and down my spine. This movement is really a hit! Try it, I think you'll agree.
How does this arrangement compare with the 100 note arrangement? Well, they are somewhat similar to each other, and yet, each arrangement is quite unique from the other. For one, the 100 note movement is in the key of G minor. While the 72 note movement is in the key of F minor. The 72 note sounds a little deeper in nature because of the lower key on which the arrangement is built. There are also other passages of music in this arrangement, which the 100 note movement left out altogether. I found that amazing! But I really cannot say that either one is better than the other, they just differ a little bit from each other. Both of these arrangement are masterpieces. Get both of them, you will not be disappointed.
Customer Review
I purchased the 72 note Sankyo movement, La Campanella (K35), from Better Music Boxes.Com. I found their service to be excellent, and their interest in supplying me with the best possible product outstanding. The Sankyo movements are well constructed, precision built musical instruments, but I have to say that after Rick Epperly performed his optimizing, (voicing, tuning, and regulating of the standard movement), it went from a good music box movement to an outstanding one. The tonal quality is now bell like from top to bottom. Every note sings, and the sound is so refined you don't want to stop listening to it. A great buy, LWP (1/18/2011)
72 Note Movement
This kind of Sankyo movement plays two or three tunes (or parts) and is made in Japan. Playing time is usually about 6 minutes. There are 72 notes (or "teeth") on the comb. There is a lot of bass sound in the comb, and the arrangements are usually very spectacular in nature. Our in-house comb machine and Rick's expertise result in
Bell-Like Tuning
unrivalled in new movements for decades.
"…I can recommend them wholeheartedly…"
- johnvankesteren