72 Note Sankyo Orpheus Movement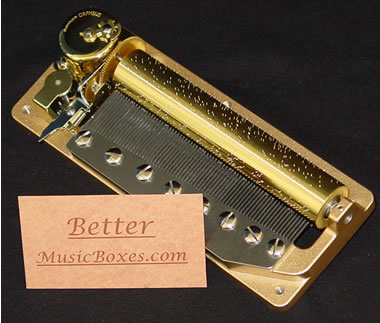 zoom
( 19cm long, 7.5cm wide, 3.5cm high )
Tune Description
This movement is German-sounding, with a soft colorful tone.
All three of these melodies are from the piece called (in English) "Night music." The "Romance" has a more meditative quality. It is almost as if Mozart looks something over very carefully, than begins to describe what he had just seen.
The "Minuet" is like a party that a King might attend. All of his servants are ready to serve his dinner.
The "Allegro" is fast, happy and charming. It almost sounds like children playing on the playground at school.
72 Note Movement
This kind of Sankyo movement plays two or three tunes (or parts) and is made in Japan. Playing time is usually about 6 minutes. There are 72 notes (or "teeth") on the comb. There is a lot of bass sound in the comb, and the arrangements are usually very spectacular in nature. Our in-house comb machine and Rick's expertise result in
Bell-Like Tuning
unrivalled in new movements for decades.
"…I can recommend them wholeheartedly…"
- johnvankesteren