72 Note Sankyo Orpheus Movement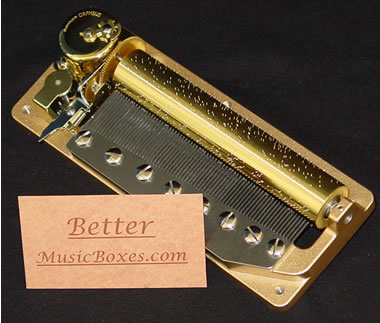 zoom
( 19cm long, 7.5cm wide, 3.5cm high )
Tune Description
This musical movement is in the German style. I liked it as soon as I heard it. The tone is charming.
"The Magic Flute" is downright happy. You can't very well feel sad while this music is playing! The music sounds like a bird in many ways, or else there might be a flute player somewhere near by.
"Voglefanger" specifically, has a feeling of stateliness or royalty, even more than the others.
The musical arrangement is very well done indeed, and the tempo is very close to that of the original score.
72 Note Movement
This kind of Sankyo movement plays two or three tunes (or parts) and is made in Japan. Playing time is usually about 6 minutes. There are 72 notes (or "teeth") on the comb. There is a lot of bass sound in the comb, and the arrangements are usually very spectacular in nature. Our in-house comb machine and Rick's expertise result in
Bell-Like Tuning
unrivalled in new movements for decades.
"…I can recommend them wholeheartedly…"
- johnvankesteren