50 Note Sankyo Orpheus Movement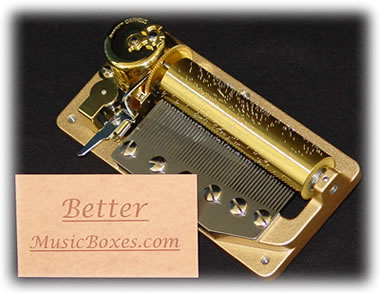 zoom


( 15cm long, 7.5cm wide, 3.5cm high )

Visually Blemished Movement Description
Visually Blemished movements sound the same as unblemished movements the only difference is visual.
Painted Cylinder, Not Polished Brass
Click here to see photographic examples
Pictures of This Blemish May Be Available upon Request
Visual blemishes do not affect the sound quality.
Tune Description
Congratulations! Here is your chance to hear a
custom-made arrangement
of three German folk songs. The music itself is exciting, stately and yet delicate. This is what the first person that bought it had to say: "Lively",
"Very Colorful", "It Sings". I'm sure you haven't seen an arrangement like this produced for quite a while! These three songs are especially well known to Germans, but you may recognize them as well, if only from vintage
movies
.
For years, I myself have wanted to produce my own musical movement; and now - here it is at last! I arranged these tunes note by note, and Sankyo has produced it.
I am so proud of the work Sankyo has done! This is
our first
exclusive arrangement. In the Whole Wide World it is only available thru BetterMusicBoxes.com!
Hear a video sample.
50 Note Movement
This kind of Sankyo movement plays two or three tunes (or parts) and is made in Japan. Playing time is usually about 6 minutes. There are fifty notes (or "teeth") on the comb. There is a lot of bass sound in the comb, and the arrangements are usually very spectacular in nature.Our in-house comb machine and Rick's expertise result in
Bell-Like Tuning
unrivalled in new movements for decades.